It's been a year since I finished 52 Suburbs Around the World – time to get cracking on a new project very soon methinks.
But as much as I'm keen for new, I'm still enjoying celebrating 52SATW.
On that, I have two things to share.
First up, if you happen to live anywhere near Dubbo, NSW, guess what? The entire 52 Suburbs ATW exhibition that was at the Museum of Sydney has travelled there – to the Western Plains Cultural Centre to be precise. All 100+ prints and the AV component too, until the end of this month.
And secondly, for those closer to Sydney, there's a smaller version of the original exhibition on at KINOKUNIYA Bookshop, for the next two weeks.
Kinokuniya is opposite the QVB, in the Galeries, 500 George Street. Head up the escalator to Level 2 and you'll see a world map drawn on the glass window outside the store – directly inside is the exhibition, in what they call the Wedge Gallery.
After printing around 15 of my favourites from the project (with the lovely Ben above) I got busy this week preparing the space. My gorgeous and talented artist bro, Guy, came along and drew the world map for me, which I then added to with city names …
We hung a close-to life-size print of Coco and I (taken by Casandra Anguita Deep) to welcome people into the exhibition …
Aside from the images some of you may be familiar with from the MoS exhibition, I added a few more, like the 'love' print on the right below …
And I had considerable fun playing with cardboard and Posca pens …
GIVEAWAY
To add to the fun, I'm giving away a signed copy of the book.
All you have to do is visit the exhibition and write down your favourite place in the world in the book provided – as well as stick an orange sticker on the world map and explain why you love that place. (So I know you're a blog follower, just add the word 'blog' after your entry in the book.)
Whoever leaves the most intriguing/weird/wonderful reason for loving a place will receive a copy of 52 Suburbs Around the World.
You've got until the close of the exhibition – 18th March – to make your mark.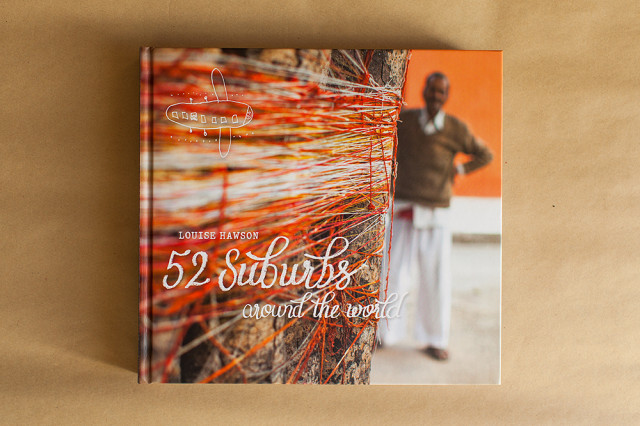 TALK
I'll also be giving a talk at Kinokuniya next Thursday 13th March, 6.15pm – a good time to unofficially officially open the exhibition.
So, in summary:
– Exhibition – Dubbo, at Western Plains Cultural Centre – Until end of March
– Exhibition – Sydney, at Kinokuniya Books – Until 18th March
– Talk – Sydney, at Kinokuniya Books – 6.15pm, 13th March
 Oh, and Coco and I will be at Kinokuniya this weekend, around midday, if you happen to be swinging by.